Ready to release emotional pain in 60-minutes or less?
"Brett's unique system reaches deep within the soul, alleviating stress and trauma. He is a lifeboat in the storm."  - Debra Duneier, CEO, Eco Chi
Hi, I'm Brett. For the past 20 years, I've helped thousands of people recover from trauma and reduce their stress with my Breakthrough Coaching Sessions.
My coaching helps you find peace with your past and allows happiness to flow into all aspects of your life. I guide you step-by-step to let go of pain in your heart, mind, and soul.
I've taught in Fortune 500 companies, hospitals, schools, military bases, and disaster sites. I'm the trauma expert for Meditation Magazine's Teacher Training Program and certify students in the Stress Is Gone Method. 
I'm certified by the American Academy of Experts in Traumatic Stress, my method is certified by the American Institute of Stress and I am accredited by the International Mindfulness & Meditation Alliance. 
Let's Work together
Three ways I can help you right now.
Master my 3 keys in this free mini-course including three short videos, meditations, a worksheet and a mobile app that predicts your stress.  
In 60 minutes release the inner pain that manifests your stress and breakthrough the hidden blocks to happiness, joy, and success.

Join our community and get all the tools, training and coaching to break free from stress, overwhelm, and anxiety.

"Brett helped me identify the root cause of my stress and form a new way of thinking about it. I felt empowered, truly heard, and have been able to make lasting changes in how I respond to stress."

Kierra Foster-Ba

Assistant Principal

"After our session, there was a presence. I was wrapped in the warmth of my grandpa, my grandma, and my son. It was just so peaceful. They stayed for hours. Brett, you truly have a God-given gift."

Sandra Henderson

Wife & Grandmother

"As I travel on my mission of veteran suicide prevention, I refer anyone in crisis to Brett. He helps people release pain and reconnect with purpose. His work has helped so many."

Michele Ladd

Founder, National Veteran Resources

"I never expected that in the first 5 minutes, Brett would be able to nail the core source of my trauma and give me the words to move on."

Deidre Auchmoody

New York
What You Get
Your Coaching Session includes a 3-month Membership to Stress Is Gone!
1-on-1 Coaching with Brett
One 60 minute live coaching session over the phone to release the source of your emotional pain.
 "Brett has an innate ability to get to the core issue. I felt it leave my body. This was a life-changing experience."

– Sarah Stanczewski, Working Mother of Two
The Masterclass
6-modules of self-paced, easy to follow training videos, worksheets, and meditations to master the method.
 "This class had me working on myself without even realizing it. Looking forward to more tools. Thank you for sharing your gift."

— JR Ortiz, USMC Veteran
Weekly Live Meditations
3 Live Guided Meditations every M-W-F at 9am ET via Zoom. Each session releases tension and opens the heart.  
        "During yesterday's meditation I experienced holding hands with my mom and grandmother, both had passed. We were walking on a beach and then we hugged."

— Abbey Sotherland, Retail Store Clerk

The Mobile App
Automated relief uses your phone to predict stress in real-time and release tension in the heat of the moment.
 "I use the app every day to help me relax. We also use the Stress Is Gone strategy as part of our clinic training. Believe me when I say these tools work."

— John Roberts, AmpSurf Coordinator
The Workbook
Exercises, definitions, diagrams, tools and scorecards all clearly laid out in an easy-to-follow format.  
 "What I love most about Brett's workbook is how easy it is to use in everyday life. It's simple, yet comprehensive. If you master these tools, you won't need many others in your tool belt."                                                                - Ross Guttler, CEO, Open Center

Community & Live Trainings
Join our community of like-minded individuals and get access to our weekly live trainings.

 "After Hurricane Sandy, I was struggling with anxiety. The classes taught me skills to take better care of myself & reduce my stress. Breaking through the isolation has been priceless."                                                               - Angela Fogarty, Rockaway, NY
"I released stress that was with me for 25+ years. I was able to speak my truth, forgive my parents, and truly grieve the loss of a loved one. As emotional tension released, I felt lighter, my depression disappeared, and all emotional eating, anxiety, and fatigue diminished. I still use his simple yet powerful techniques in my life to maintain this stress-free state."

Marcy E. Kessler

NY

"I can attest to every word in Marcy E. Kessler's testimonial because I experienced the same thing. I was in a dark abyss of depression. While attending an online veterans support group, Brett was the guest speaker and singled me out. I was angry, depressed, and suicidal, and yet I followed his lead. I have learned to be at peace within myself. I owe my life to Brett, and Stress Is Gone. Thank you, Brother!"

Rick Williamson

Army Veteran, Peer Support Specialist, Montana

"The calmness I received during the session was truly Godsent. The weight just lifted, and I can't wait to do your meditation and our next Zoom. Thank you again, Brett."

Christie DeWitt

Mom & Grandmother
FREE GIFT
Who would you be without stress and anxiety?
Master my 3 Keys to find out in this free mini-course.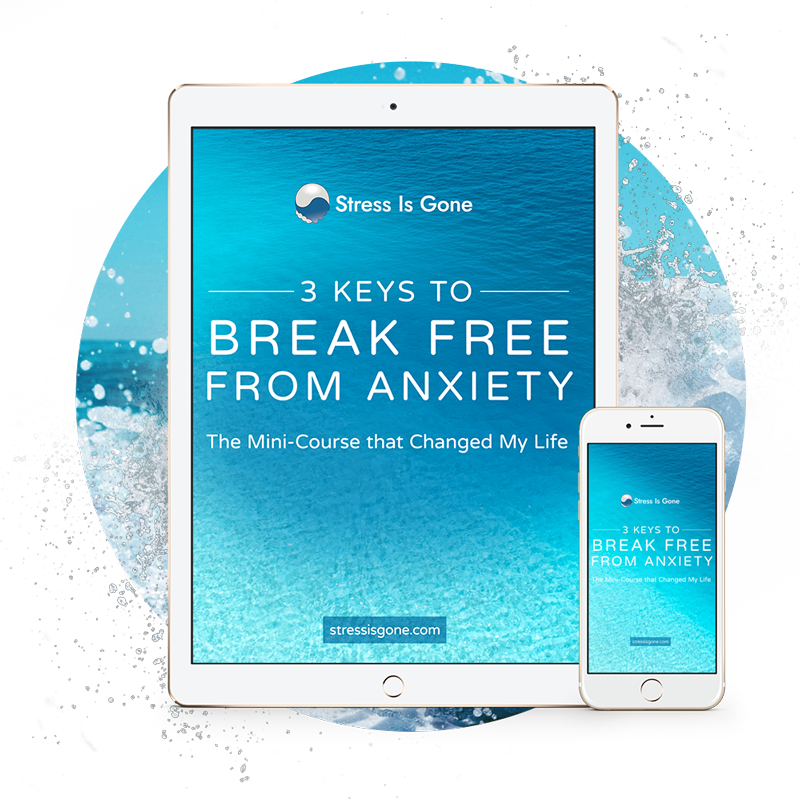 And get access to our newsletter. Unsubscribe anytime.