The Stress is Gone Method Certification
Expand your capacity for self-love, joy and confidence.
Imagine Releasing Your Stress and Helping Others Do the Same.
Get Certified in The Stress Is Gone Method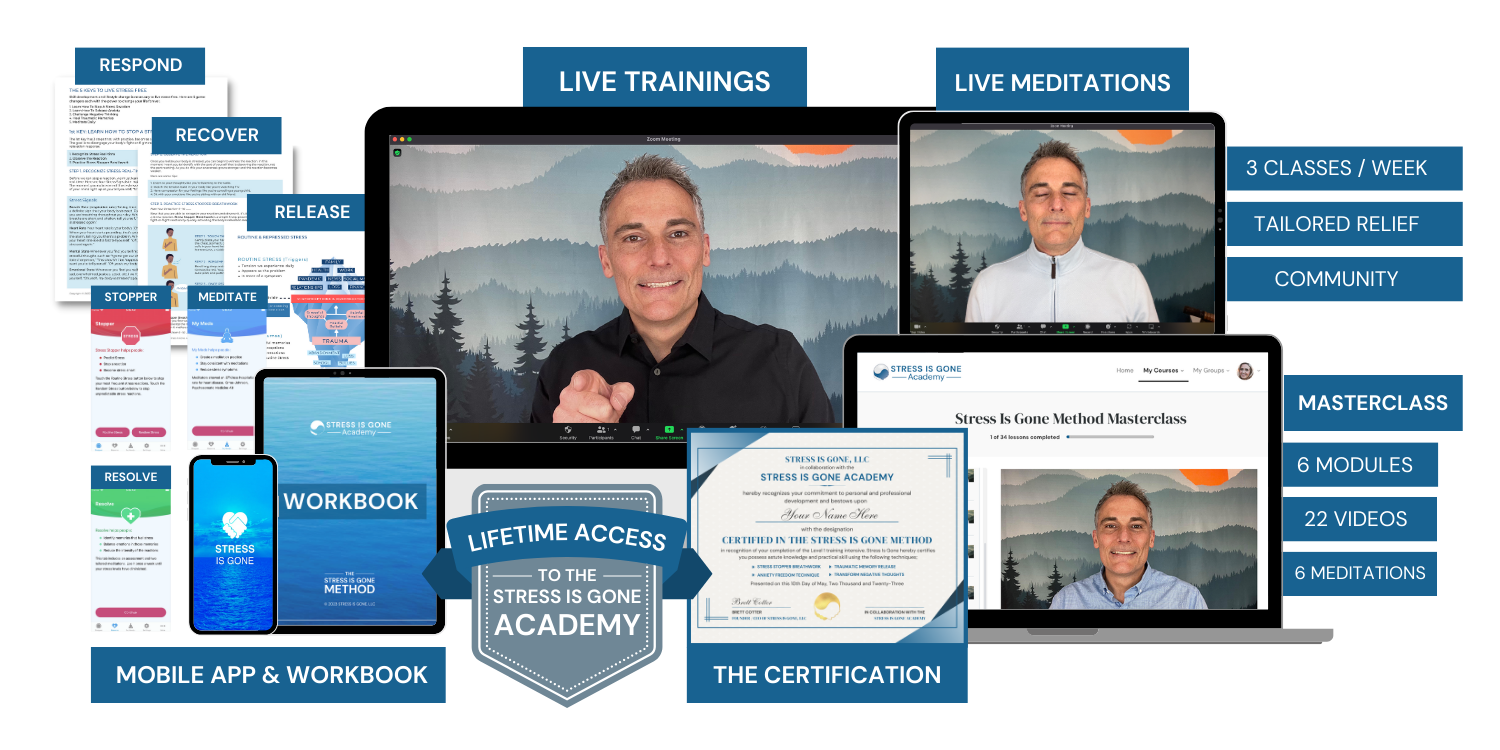 For over 20 years, Brett Cotter has honed his method to help people quickly break free from stress, anxiety and painful traumatic memories.
In this 3-month certification program, you'll be guided to release anxiety, trauma & limiting beliefs while mastering the core tools of The Stress Is Gone Method.
"As a clinician, it was impressive seeing the work on others and personally feeling my own stress being lifted out of my body. I've already encouraged several family members to call for coaching... Brett is a breath of fresh air!"
—Gerri DeBenedetto, LCSW
The Stress Is Gone Certification is for you if...
You want to break free from stress, anxiety and traumatic memories for good

You're ready to release limiting fears & beliefs so you can live with more joy, ease, and confidence 




You work in the mental health field and want to add powerful new techniques to your tool belt  




You'd love to help your family, staff, or clients reduce their stress and anxiety (group discounts available) 
Sign up if you're ready to...
Dissolve hidden blocks that hold back relationships, career, and capacity for love

Grow past your comfort zone and connect with your true power




Become confident and comfortable in your own skin
"Brett creates a safe space to open up and has an innate ability in getting to the core issues so you can process them and feel them leave your body. It was a life-changing experience."
—Sarah Stanczewski, NY
Master the core 4 tools of the Stress Is Gone Method: 
Stress Stopper Breathwork to shut down stress in seconds  

Anxiety Freedom Technique (AFT) to release anxiety in minutes  

Traumatic Memory Release (TMR) to heal painful memories, past relationships, flashbacks and nightmares 

Transform Negative Thoughts (TNT) to reverse negative thinking
These tools quickly empower you to:
Surface & release the true source of your stress and anxiety




Replace negative thoughts with empowered actions




Face life's challenges with intuition, clarity and inner-strength  

Better support the happiness of your clients, community, and loved ones
"Battling depression, anxiety, and PTSD for decades has led me to several counselors but Brett was different. His technique to guide me through my healing was exactly what was needed. It didn't take long at all! I say he is a "Miracle Worker" and I am a miracle! Life is sweet again. Thank you Brett and also Mike for your effort in connecting us. I am blessed and thankful."
Live Training
12 sessions include 1-on-1 laser coaching, group release work, and instruction with Brett. Plus breakout and Q&A sessions.
 "Brett's unique system reaches deep within the soul, alleviating stress and trauma. He's a breath of fresh air and a lifeboat in the storm."

— Debra Duneier, CEO EcoChi
Masterclass
6-modules of self-paced, easy to follow trainings, worksheets and meditations to master the core techniques.
 "The class was very informative and had me working on myself without even realizing it. Looking forward to more tools. Thank you for sharing your gift."

— JR Ortiz, USMC Veteran
Meditation
3 Live Guided Meditations every M-W-F at 9am ET via Zoom. Each session releases tension and opens the heart.  
 "Thank you for the meditation. I was able to feel my mom and my grandma with me as we were walking on the beach."

— Abbey Sotherland, IN

Mobile App
Automated relief uses your phone to predict stress real-time and release tension in the heat of the moment.
 "I use the app every day to help me relax. We use the Stress Is Gone strategy as part of our clinic training. These tools work."

— John Roberts, AmpSurf Coordinator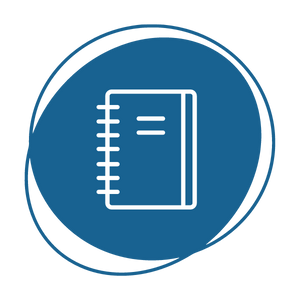 Workbook
Exercises, definitions, diagrams, tools and scorecards all clearly laid out in an easy-to-follow format.  
 "What I love most about Brett's workbook is how easy it is to use in everyday life. It's simple, yet comprehensive. If you master these tools, you won't need many others in your tool belt."

— Ross Guttler, CEO, The NY Open Center

Community 
Grow meaningful relationships within the S.I.G. Family and collaborate with classmates in a Private FaceBook Group.

 "I felt a connection with other participants and realized they were dealing with similar issues. I was able to face and let go of core stress throughout my life. I'm becoming the person I always knew I could be."

— Jeremiah R., NYC
 

The greatest version of yourself is right around the  corner...
Just imagine who you will be without stress or anxiety.
Credentials
The Stress Is Gone Method Certification Program is accredited by the International Mindfulness and Meditation Alliance as well as The Meditation Organization. The core technique is certified by the American Institute of Stress.  Brett is certified by the American Academy of Experts in Traumatic Stress and National Center for Crisis Management.
Hi! I'm Brett Cotter, author and founder of Stress Is Gone.
I have 20 years of experience helping people break free from the grips of their pain and experience freedom from the inside out, so they can live happier healthier lives.
For over two decades I have coached private clients and taught my signature classes in fortune 500 companies, hospitals, schools, non-profits, military bases, disaster sites, and world renowned retreat centers.
I am certified by the American Academy of Experts in Traumatic Stress, the National Center for Crisis Management and was trained by a 35th Generation Shaolin Grandmaster and the Himalayan Institute.
Got questions? We've got answers.
If you have any additional questions, don't hesitate to reach out.
These techniques change lives fast. The first step is healing yourself.
Release Anxiety
Identify & release the true source of your stress and anxiety
Boost Self-Love & Confidence  
Let go of emotional pain & beliefs holding you back from your greatest life
Improve Relationships
Replace overreactions with fulfilling connections with loved ones, friends & colleagues
Sleep Better
Learn a simple breathwork practice to help you fall asleep in minutes
Relieve Physical Pain
Feel tension dissolve as deeply held traumas are released
Reduce Risk of Illness
Access your source of strength, inner peace, and enthusiasm for life
Enrollment is now closed.
Sign up below to get notified when enrollment is open again.
We hate spam too. Unsubscribe at any time.
"In my work with Brett, I released core stress that had been with me for 25+ years. I was able to speak my truth, forgive my parents, truly grieve the loss of a loved one and release old patterns. As stress and emotional tension released, I felt lighter physically, my depression disappeared, and all emotional eating, anxiety, and fatigue diminished. I still use his simple yet powerful techniques in my life to maintain this stress-free state."
"I agree and can attest to every word in Marcy E. Kessler's testimonial because I experienced the same thing. When I first came into contact with Brett about 3 years ago, I felt as though I was at the end of my rope. I was in a dark abyss created by depression, and I didn't think there was any way out. While attending an online veterans support group, Brett was the guest speaker. I had my guard up and only let it down far enough to give him a shot at breaking that barrier. I didn't trust him or anyone else. In approximately 30 to 45 minutes, that all changed. Brett singled me out of a group of about 12 to 15 people. I was angry, depressed, and suicidal and above all, trusted no one, and yet I followed his lead. Today, I rarely struggle with depression or anxiety, and I haven't had any anger outbursts that have resulted in a blackout rage. I owe my life to Brett, and Stress Is Gone. Although I have PTSD, I have learned how to cope and live with it to the point of being at peace within myself. We have become very close friends, and it is an honor and pleasure to be on his team. Thank you, Brother!"
"I never expected that literally in the first 5 minutes he was able to nail the core source of my trauma and give me the words to release it and move on. I do sometimes forget but I always find it again. Thank you sincerely Brett."
"This work gave me a gift that I can use over and over again when I need to reconnect with peace. It gave me back to myself by allowing me to visit the perfect space of my existence. Like a touch-stone, it takes just a second, and is powerful enough to transport me beyond my biggest problems and into a place where I am free."
"Everyone mentioned how Brett's attention to each student's emotional state was unwavering. All said how profound and amazing their week was, and that it went beyond their expectations. I could see an obvious shift in each student and the group has remained in touch. It is teachers like Brett Cotter who truly remind me why I am still at Omega after 18 years, and the important ripple effect our organization has on all of society and humankind."
"Brett Cotter is an amazing healer through his gift of guided meditation and techniques he teaches veterans and first responders. His book and subsequent workshops have been outstanding, they continue to make a difference in people's lives. Brett has been able to touch so many through his untiring efforts to serve those in need."
"Brett has taught the Stress Is Gone Method to our instructors who have taught thousands of disabled veterans, first responders, adults and children to surf. Part of Brett's workbook is included in our training materials, as we want our instructors to thoroughly understand how to spot, assist and quickly de-escalate anyone having a stressful experience in the water."
"We are so excited about Brett Cotter and the Stress Is Gone program Brett introduced for psychiatrically disabled adults, and from the start, there was an instant connection! He presented the use of exercise, affirmations, and meditation in such a unique way that everyone, including staff, was comfortable participating and following Brett's lead. He's easy to follow and fun to work with and we can't wait for him to come back and continue teaching us!"
"Brett Cotter has been working with our multiply traumatized adolescents in the foster care system. He has helped our teens understand how their past trauma affects their current reactions and behaviors in a way that is age-appropriate. He provides a safe, non-judgmental, and empowering environment in 1:1 and group sessions. He shares the tools they need to reduce stress and develop positive coping skills. Brett has given them a new belief in themselves; changing the thought and behavior patterns of even the most jaded of our clients from destructive to a more positive nature. Brett goes above and beyond to help these children who have suffered so much in the past, as well as our management and staff. Everyone who has experienced this work is truly in a better place."
"As a Doctor of 25 years, prior service member, and Director of a Civilian Navy Seal Training Program, I understand stress. Stress Is Gone uses unique and innovative ways to help those seeking to manage emotional stressors. I have found their approach to be helpful with my patients overall sense of wellness and use the Stress Is Gone Method daily in my practice."
"I served as an US Army infantryman in Iraq back in 2003-2004. And ever since
then my daily life has been overwhelmed with feelings of shame and guilt from the things I was asked to do and did while I was over there. When I signed up for Brett Cotter's 5-day workshop, I honestly didn't expect more than a few days of relaxation, and maybe some new meditation practices. I was shocked at how quickly he began bringing out of us what was really hurting. I've never met anyone who listens to pain as well as he does, and reflects back such empathy.  The most critical part of the retreat for me was my one on one session with Brett. He listened to me talk about my Iraq experience in a way that made me feel safe enough to really open up. He mirrored my grief and acknowledged my frustration and then he guided me back to my heart, my good pure heart, and helped me stand tall and proud again. My daily stress levels have gone down since the workshop. This is one of the most helpful experiences I've had in managing my post-traumatic stress."
"My son was a disabled Marine veteran that died by suicide. Brett has been instrumental in me being able to move forward and raise my grandson Kayden, he has changed so much. I feel that my progress of moving forward has taught him. And with the difference in me it makes a difference in him. He has finally accepted this as his home. He now wants to sit by me and lay his head down. He is saying I love you without being told first. He is happier than before and he wants me to participate in his joyful activities. He wants to cuddle. Other people have told me he's always been a happy kid but he is so happy now. There is such a change in him. Kayden knows he is loved. For instance he overheard us talking about my other grandson's difficulties and said, 'just bring him home with us and love him like you do me.' 
And thank you for helping the MOVS. My purpose has become helping the moms and trying to prevent soldier suicide. Christie lives in the town next to me. She was so happy she talked to you. She just raved. Other people in the support group were asking about you. I did tell them about the Facebook page and meditations and Wednesday night trainings. I really want the other moms to realize you can have joy again. To find a purpose. To be kind. It heals the heart. 
I believe God sends us what we need and we have to choose to use it. You were such a blessing and still are. Brett you are so good and you care. He is a guiding light and can help with so many issues. He has so much healing and I don't know I would have moved forward without his help."
"The weight lifted and the calmness that I received was truly God sent. I can't wait to do your meditation and our next zoom. Thank you again."
"This work has helped so many. I have called Brett many times with a veteran in crisis and helped them calm down and continue with less stress and with a purpose. As I travel the country and meet active-duty, veterans, first responders and their families, they all receive a copy of his book. This is just a glimpse of how much I believe in his skill to help anyone with PTSD."
 

The greatest version of yourself is right around the  corner...
Just imagine who you will be without stress or anxiety.